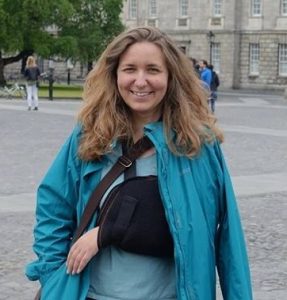 In the summer of 2014, my life changed forever. I was out on my beloved Suzuki V-Strom 650 (RIP) when I got knocked off my bike at 50mph by an aggregates lorry, leaving me with a veritable smorgasbord of injuries, including a traumatic brachial plexus injury. Despite the constant neuropathic pain, the cocktail of hardcore drugs (prescription, I hasten to add!) and the completely paralysed arm, I went back for my third year at uni and finished my degree in archaeology at the venerable Institute of Archaeology, UCL. Currently, I am studying for an MLitt in Museum Studies at the University of Aberdeen.
This blog is for anyone who has suffered a traumatic brachial plexus injury, or has a loved one coping with arm paralysis. It is intended to offer resources, tips and workarounds that I have come across in my own TBPI journey, but as it is a personal blog and I am self-avowed nerd, there will also be content on the one-handed approach to video games, painting, and general health and wellbeing. Feel free to dip in and out of the bits that interest you.
Above all, I hope to help other TBPIers realise that there is life after limb.
Catch me on Twitter @lifeafterlimb